Multiplier Event of DT4S Project was held in Greece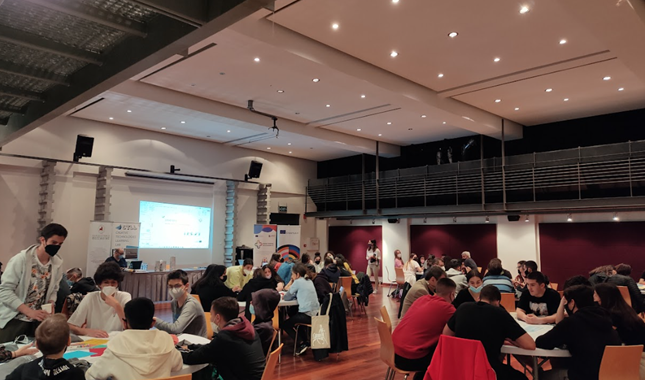 Design Thinking For Sustainability Education(DT4S) Project (2019-1-TR01-KA201-076710), supported by the European Commission through Turkish National Agency under Erasmus + Program School Education Programme, has been carried out by the Governorship of Istanbul (Turkey), Virtual Campus (Portugal), Advanced Technology Systems (Romania), Tallinn University (Estonia) and Thessaly University (Greece) between 01/09/2019 -31/08/2021.
DT4S aims to raise the awareness of secondary school students aged 12-16 and to develop their basic knowledge, positive attitudes, problem solving skills, collaboration ability and synthesis skills through the innovative solutions in order to prepare them for active participation in sustainable development practices.
DT4S Project multiplier event was held in Greece on 5/05/2022 with the participation of 65 teachers and students. The event organized by University of Thessaly. Participants received a presentation of the DT4S project as well as a demonstration of the DT4S learning platform. In addition, they applied hands-on design thinking to introduce solutions to sustainability issues. Students worked in teams of eight, with each teams selecting a topic of their choice in the area of effective waste management. Group work allowed students to become aware that innovative ideas are more effectively composed by teams with complementary skills. The solutions introduced by students concern composting, clean seas, recycling, rewarding positive behaviour towards the environment, and other sustainability issues, highlighting their awareness of contemporary 21st century challenges and their ability to analyse problems and plan interventions to address them. The event was exceptionally well received, with high engagement of participants and a very positive and inclusive atmosphere.