Multiplier Event of DT4S Project was held in Romania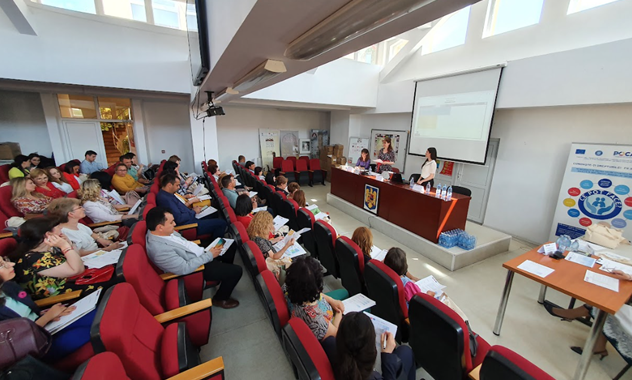 Design Thinking For Sustainability Education(DT4S) Project (2019-1-TR01-KA201-076710), supported by the European Commission through Turkish National Agency under Erasmus + Program School Education Programme, has been carried out by the Governorship of Istanbul (Turkey), Virtual Campus (Portugal), Advanced Technology Systems (Romania), Tallinn University (Estonia) and Thessaly University (Greece) between 01/09/2019 -31/08/2021.
DT4S aims to raise the awareness of secondary school students aged 12-16 and to develop their basic knowledge, positive attitudes, problem solving skills, collaboration ability and synthesis skills through the innovative solutions in order to prepare them for active participation in sustainable development practices.
DT4S Project multiplier event was held in Romania on 27/05/2022 with the participation of 82 teachers and managers. The event organized by ATS included the following sessions:
1. Presentation of the Design Thinking methodology
2. Presentation of the project results
the DT4S educational platform, and examples of activities;
the DT4S website, manuals, guides, manuals, videos, worksheets, others;
3. A short question and answer session
4. Experimentation of the Design Thinking methodology and of its use in the educational process.
At the end of the event, the participants have received:
– the DT4S promotional materials that included a cotton bag, a mug, info sheets, a memory stick with the platform manual, info sheets, videos, etc;
– diploma of participation.